Police Contacts
Cumbria Constabulary have introduced many different ways for the community to contact the Police and to stay abreast of all the latest news and safety advice.
By Phone
Emergency – Call 999
In an emergency, always dial 999 – an emergency is something that needs an immediate response such as there is a danger to life, violence is threatened, serious injury or damage to property or a crime is in progress to give a few examples.
If you are deaf, hard of hearing or speech impaired you can report an emergency by text to 999. NOTE: You can only use this service if you have registered your mobile phone.
To register, text 'register' to 999 and follow the instructions on the message you receive. If you require more information, please visit: Relay UK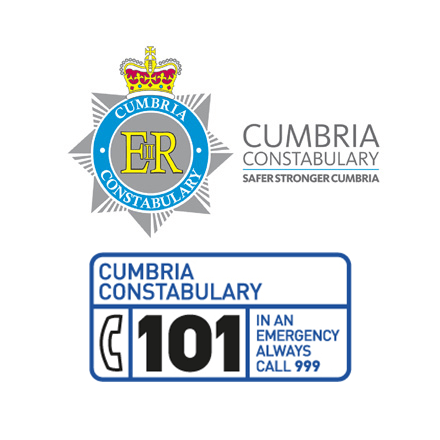 Non Emergencies – Call 101
If it is not an emergency, call 101 if you wish to speak to the Police. A non-emergency might include needing to see an officer by appointment, a crime is not in progress but you have something to report, community issues or general enquiries.
If you are deaf, hard of hearing or speech impaired you can use this service by using textphone 18001 101. Again, you will need to have registered your phone as above.
In Person or Online
If you see an officer on patrol, they are happy to answer your questions, just ask. Alternatively, please attend the Ulverston Coronation Hall to speak to our Front Desk Clerk, Monday-Friday 9am to 12 noon or visit our mobile police desks if they pop up in a Village near you. Details of the mobile police desks are on the
Constabulary's website
(scroll down to 'Your Area' and type in your postcode). The website is an easy-to-use tool in finding the answer to your queries or providing you with more details on how to make contact. Please take some time to explore it.
Keep Informed
Cumbria Community Messaging (CCM) offers people the means to receive information from various agencies in the County, tailored to their particular preferences for content, priority and means of communication. It is useful for those that may not use social media and who may prefer either a voicemail, text message or email alert. We use CCM in partnership with Neighbourhood Watch Association. Please sign up at
Cumbria Community Messaging
or speak to one of the Community team and we will register you on the system.
Social media is becoming a valuable method to communicate with many people very quickly and if you would like to follow us please do so
@CumbriaPolice
and also find us on
Facebook
. Please note that these medias are
not
appropriate for reporting incidents.
Deer poaching & Rural Crime
In response to concerns raised by the Forestry Commission, Parish Councils, local residents and farmers together with calls for service to poaching incidents, we are increasing uniformed patrols in the rural areas of Ulverston East. As a rural County, issues reported regularly by the community are in relation to poaching of deer. All wildlife crime can be difficult to prevent and investigate as it quite often takes place out of sight of the public but when intelligence and information is received there are a number of wildlife crime officers (WCO) based around the County who can investigate these incidents. Currently these officers carry out their wildlife investigations as a secondary role to their core responsibility which is policing of our neighbourhoods.
Incidents should be reported as you would any other incident, by calling Cumbria Police on 101 or in an emergency 999. Alternatively if you would like to discuss an issue with a Wildlife Crime Officer, please use the non-emergency number or email: Wildlife Crime.
For more information and advice, please see our website.